Information Technology
Maryland CTE Program of Study
Academy of Information Technology (NAF)
In partnership with the National Academy Foundation (NAF), the Academy of Information Technology prepares students for post-secondary education and careers in a wide range of Information Technology (IT) careers. All students complete foundation-level courses in computer science and then choose an area of specialization. Students may focus on IT software and programming or IT hardware and networking options.
CTE Course Sequence
NAF AOIT- Principles of Information Technology
This is the first course students take in the Academy of Information Technology. It provides an overview of information technology and introduces students to the basics of hardware and software. Students examine hardware components including peripherals, connectors, and memory. Students explore common operating systems, software applications, and programming languages.
NAF AOIT- Computer Networking
Computer Networking is a hands-on introduction to peer-to-peer and client/server networks. The course guides students through all phases of implementing and troubleshooting common TCP/IP Ethernet networks. It covers network components, cables, and connectors, as well as the OSI model, protocols, and topologies. Students implement and troubleshoot a LAN and learn about access issues for WANs.
NAF AOIT- Computer Systems
Computer Systems walks students through the intricacies of setting up hardware, installing software, connecting to a network, and connecting to the Internet. Students get hands-on practice upgrading operating systems. They get practice assembling and disassembling computer hardware including peripherals, motherboards, FRUs, and connectors. Students also learn troubleshooting techniques.
NAF AOIT- Database Design
Database Design covers all aspects of the database life cycle, from collecting user requirements to delivering a database application. Students get hands-on practice in a true-to-life database project as they move from a statement of requirements to a conceptual model, then to an entity-relationship model. They translate this into a relational database. Finally, they create, test, and document the associated database application.
NAF AOIT- Digital Video Production
Digital Video Production provides a hands-on introduction to digital video production. It guides students through all phases of digital video production, from planning, executing, and managing a video shoot to editing footage. Students explore methods of sharing and broadcasting digital videos, including platform versions, CDs/DVDs, and web delivery.
NAF AOIT- Introduction to Programing
Introduction to Programming uses Python as a basis for learning general programming skills. Students learn programming principles by comparing Python to other programming languages. They use models as a way to quickly solve new problems using knowledge and techniques already learned. Students complete over 60 programs in the course, including both text and graphics/animation programs. In addition to programming, students learn program design, documentation, formal debugging, and testing.
NAF AOIT- Web Design
Web Design is a hands-on introduction to designing, building, and launching Web sites. Students learn about Web development including HTML coding, usability, design, and Web-based publishing tools. Students determine business requirements, gather Web content, create Web pages, conduct usability testing, launch their Web sites, and plan how to attract traffic.
Additional Program Advantages
Program Recognition
National Academy Foundation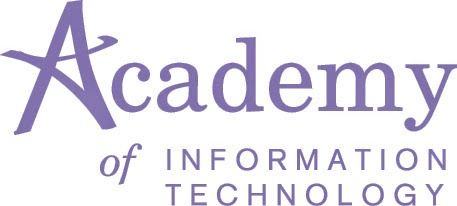 National Academy Foundation
Technical Skill Assessment
Early College Credit (dual enrollment)
www.naf.org